Woofstock 2017 Highlights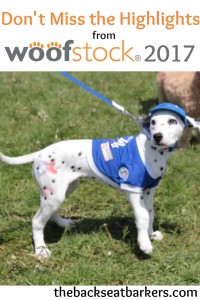 Every year Woofstock is a haven for dogs and dog lovers alike. A place where your pup can try things like surfing, playing in a kibble ball pit or taking to the runway to strut their stuff. Whether your dog is just a pupper or an old boi, a borker or rocking a blep like this sweet wheely squish face here:
Woofstock is a place for any and every kind of dog to celebrate their cuteness on a sunny Toronto weekend. Check out our highlight reel of the festival here:
What our dog pals got up to
Our very own Backseat Barker Fishstick looks forward every year to the Running of the Pugs, pug race. He came in 2nd in his heat and gathered quite a crowd of people waiting to watch all the little piggies run their hearts out.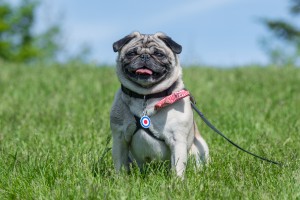 Just look at that adorable little Fish! What an incredible photo by our friend Colleen Yates.
3 Furry Beauties and their brother Toby were absolutely stunning in the Ruff Stitched Fashion show. All 3 Furry Beauties dressed up as mermaids and Toby was granted the incredible honor of being named Mr. Canine Woofstock 2017! Congratulations!
Ruff Stiched's own Winston the Mighty Morkie was also amazing, modeling several different outfits in the fashion show.
Ms.Charmin was looking cute as ever, modeling several outfits including some incredible evening wear.
Coppertone Surf Dog was killing it on the Gnarly Cranking K9 Wave Maker with Lucy Pet and all weekend people lined up for their chance to watch their dog catch a wave!
We also caught up with Smiley who always brightens our day.
And sat down for a spotlight interview with Jane from COPE after she put on an incredible demonstration in the Bullwrinkles Arena about how service dogs can help in more ways than you can imagine.
We watched dogs tap into their instincts (or not…) on the Dog Lovers Days Lure Course.
There were also Dock Dogs and Trick Dogs and Fashionistas and Divas and so many dogs, dogs, dogs!
Were you at Woofstock this year? Did your dog try surfing or any of the other activities? What did you think?