Sara and The Super Collies – Ultimate US Road Trip

Sara and her talented, well-trained and well-traveled Backseat Barkers, Hero, Marvel and Loki AKA The Super Collies, are heading off on a 4 month summer ultimate US Road Trip criss-crossing the country from May until August, 2017.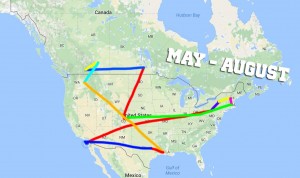 They will be taking us along on their travels from Hollywood to the east coast and back with weekly posts and we can't wait.
They will be doing workshops and performing. See their list of workshops here.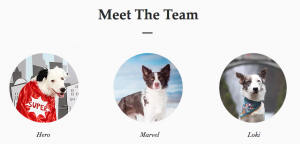 www.thesupercollies.com www.instagram.com/thesupercollies www.facebook.com/thesupercollies
Sara Carson
Growing up in Ontario, Canada, Sara ran her own dog training business for over five years teaching dog trick classes, obedience, puppy foundation, and agility.  Currently, she is traveling North America and spending her days performing with a popular stunt dog team.
Carson is considered one of the top trick dog instructors in the world and is certified through "Do More With Your Dog!"  She has earned several agility titles and also enjoys competing in Dock Diving, Frisbee, and Canine Freestyle.
Sara and Hero have appeared on The Late Show with David Letterman they have also been seen together on The Marilyn Dennis Show, CTV news, Rogers Daytime Toronto, and multiple live shows and Talent Events including The Canadian Pet Expo, Purina National Dog Show, Woofstock and the Talent Hounds Talent Show at All About Pets Show. Carson skillfully trained Hero to take part in several commercials for Petco, the Family Channel, and the Pet Network (Talent Hounds), among others.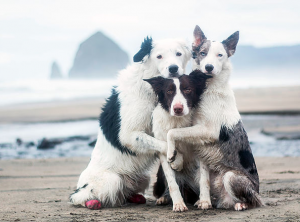 Hero
Hero is a five year old 50lb Border Collie from Ontario, Canada. He has traveled all across North America, performing at events small and large including some of our Talent Hounds shows! Starting at the young age of 4 months old, he became the worlds youngest champion trick dog! He knew over 60 tricks back then and we know first hand that he currently know hundreds!  He is so amazing and we love the bond he has with Sara. He is always so eager to please and seems to love performing. He was part of the inspiration behind The Backseat Barkers.
 He teaches people all around the world about Pawsitive Reinforcement and excels at dog sports like agility, disc and canine freestyle.
Marvel
Marvel is a 1 year old Border Collie Rescue Dog a little smaller than Hero. She grew up in San Francisco, CA but got adopted by Sara. She had some reactivity issues but has progressed with training wonderfully. She now knows a ton of tricks and loves catching frisbees.
Loki
Loki is an adorable small 10 month old Border Collie. He grew up in Oklahoma and ended up with a family who couldn't handle his crazy puppy antics. He did his first live performance at 8 weeks old and by the time he turned 6 months old he was the opening dog for several theater shows! He loves his sister Marvel and absolutely loves to play with Sara!