Make Your Day With the Dogs who Came Out for Toronto Pride 2017
We went to enjoy the festivities of Pride and support our friends. Pride in Toronto is a colorful, cheerful and exciting event that represents a very important message of inclusivity in this city. Luckily for us, Pride this year included lots and lots of adorable dogs!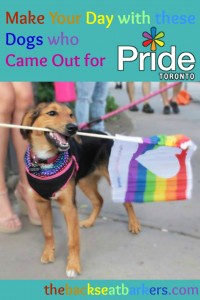 Pride is about Love- Of All Kinds
Members of the LGBTQ+ community are still fighting daily to have an equal and respected voice in this world. While the Pride Parade may only happen once a year, Pride events have been going on in Toronto all month building up to this weekend.
While it is fun and a great party, Pride is still so important on a deeper level. It's a no-holds-barred weekend for people to be whoever they want to be for everyone to see and not have to apologize for it. And why should they? Everyone we met was absolutely Fabulous and Flawless.
If you were out at Pride anywhere this weekend you likely saw people of all different ages, body shapes, orientations and ethnicities beaming from ear to ear rocking whatever they felt comfortable in (which for some is even nothing at all!). There were single people, couples of all kinds, groups of friends, lovers, families and of course even some dogs who came out to support this community and their right to be free.
Celebrating Pride
So, whether you were there or if you happened to miss it this year, please enjoy the colorful, lovable and absolutely inspiring dogs who stood by their parents' sides this weekend to speak up for inclusivity and equality- And lay on a little cuteness while they were at it.
Dogs of Pride Video:
Did you bring your dog to Pride? Spot any colorful cuties? Share a pic in the comments!