Hero the Super Collie and Sara Carson Had a Life Changing Day on AGT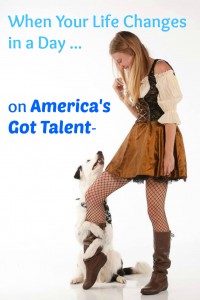 If you've ever watched America's Got Talent you know that the show is full of incredibly talented and interesting performers of all kinds. Our friends the Olate Dogs featured one Talent Hounds thrilled us and won in 2012.
Well, get ready because our own Backseat Barkers and Talent Hounds stars Hero and Sara Carson auditioned. They did an incredible performance that even included a sword fight. After a nail-biter with the judges and an intervention by Simon Cowell, they are through to the live show. We love Sara, Hero and Simon and are so excited!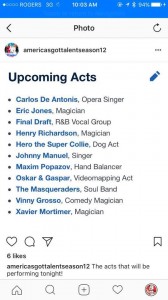 Sara and Hero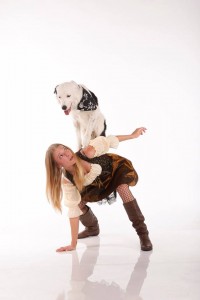 Hero is not only an amazing entertainer, but also a Qualified Therapy dog and has awards and certificates in Herding Instinct, Worlds Youngest Champion Trick Dog (At only 4 months old), Dock Jumping and Agility!  Hero is one of the Most Talent Trick Dogs in the World and if you can't wait to see what he can do, check out this video:
As well as dazzling audiences with Talent Hounds, Hero has given David Letterman Kisses, Performed for Marilyn Denis and CityTV, Played Basket Ball on Animal Planet and Skateboarded on The Family Channel.  He has hosted the Canadian Pet Expo, travelled the US and Canada performing and won the Stupid Dog Trick Contest at Woofstock more than once.
Though it may seem like it happens overnight, a lot of work goes into training then preparing to audition for a show like AGT.
Sara is a gifted dog trainer and performer. She got Hero as a puppy and has spent every day since developing their bond and teaching him tricks and behaviors.  She is even launching a training app with great tips which we plan to download ASAP for Backseat Barker Kilo the Pug! Check out this short video where she explains how to teach your dog to walk on your feet.
Auditioning for America's Got Talent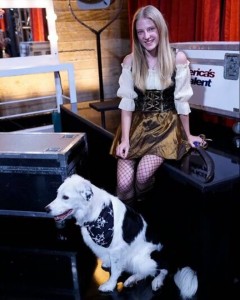 Now, Sara and Hero are taking on all of America on AGT and it's sure to be a night to remember. In a teaser we see the briefest of clips of Simon Cowell on stage giving Sara a hug.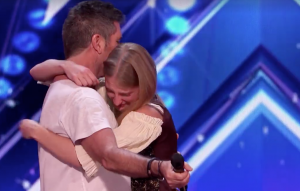 Sara and Hero wowed the audiences of AGT the way they've wowed us so many times before!
Be sure to tune in on CityTV in Canada or NBC in America to watch Sara and Hero's full audition and to cheer them on and vote for them on the live show. Woohoo! So proud.