Backseat Barkers Pilot Episode Nominated
for the BlogPaws Pet Video of the Year Award
Best of the Best Nominated by Industry Professionals
BlogPaws, the first and original social media network and conference designed by and for pet bloggers, recently announced finalists for the BlogPaws 2016 Nose-to-Nose Pet Blogging and Social Media Awards. We are so thrilled that, after much hard work by our dedicated, talented team,  our series "Backseat Barkers" is one of the finalists.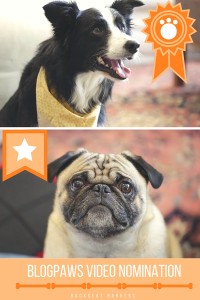 Designed to honor the best of the best pet bloggers and influencers, 48 finalists in 12 categories have been selected in "Oscar-award" style by a panel of industry professionals.
Backseat Barkers is on the list with the best and brightest pet content producers of 2016.
Judged on Expertise, Performance, and Creativity
The 12 winners will be selected by judges based on creativity, expertise, and performance in their respective categories.  Inspiring content is at the forefront of nomination criteria.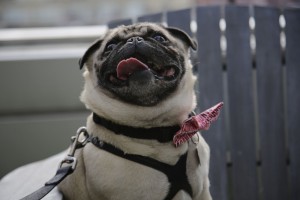 "Our bloggers strive to BE something, at BlogPaws, not just to 'write' something or 'create' something." BlogPaws' co-founder, Yvonne DiVita said. "It's about learning, growing, and striving for excellence. BlogPaws rewards them with our Annual Nose-to-Nose Awards, sharing the 48 finalists leading up to our conference, then awarding the winners at a Red Carpet ceremony June 25th."
This is so true in our case. We have learned so much and made such wonderful supportive friends through BlogPaws. We have worked hard to showcase rescues and talented dogs making a difference on Talent Hounds and shared ways to bring out the best. Our series Backseat Barkers is a funny look at the life of pet parents and adopted pet step-siblings. It is not only entertaining, but helps people understand that different dog breeds have different needs and it is very important to choose the right breed for you.
Winners To Be Announced June 25
Winners will be revealed in an exclusive red-carpet ceremony at the seventh pet-friendly BlogPaws Annual Conference taking place June 23 through June 25. The three-day extravaganza culminates with this exciting finale. All winners receive a trophy, recognition by peers, media spotlight, and a prize.
Our stars look great on the red carpet, we can't wait! Be sure to check back here with us to find out how it went.

About The Backseat Barkers
Backseat Barkers is a blended family road trip comedy series in development with Talent Hounds. 20 somethings Hugh and Jess move in together with their two very different dogs, Fishstick the Pug and Lottie the Border Collie. A road trip across Ontario adds even more comedic tension. We hear the thoughts of the "odd couple" of dogs in the backseat.
About Talent Hounds
Talent Hounds is an entertainment hub devoted to celebrating dogs for their many unique talents and bringing out the best in them. We started with a documentary TV series and now produce pet related content and manage a thriving community.