Behind the Scenes as the Backseat Barkers Take Toronto
 The Talent Hounds crew was on location May 29th at Toronto's Woodbine Park for Woofstock, then at the luxury Fairmont Royal York Hotel, filming our new comedy series "Backseat Barkers".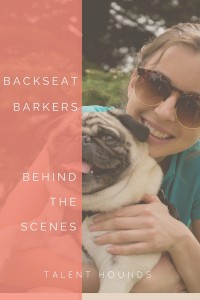 Backseat Barkers Episode – Taking Toronto
In this episode of our award-nominated series, the blended family of step parents and furkids visit Toronto. While Hugh goes off to a dentistry conference, his girlfriend Jess, Lottie the Border Collie and Fishstick the Pug check out Woofstock and enjoy the suite life at their hotel: the Fairmount Royal York.
Fishstick, our star rescue pug, caught up with some other very cute pugs like Miss Edie the Pug and Tuesday the Pug at the PugALug Pug Rescue booth.
He seemed to be enjoying the celebrity pug lifestyle and invited a few ladies back to his hotel!
They say stylish pugs are happy pugs. Doesn't Fishstick look just debonair in his Handmade In The Hammer Canada bow-tie? Kilo the Pug has one to match and we gave one to Doug the Pug too.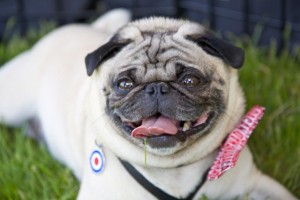 Fishstick enjoyed the "A list" treatment all day. Our kind friend Tanya from Bullwrinkles gifted us a massive bone (almost as big as Fishstick) and some liver treats.
"Jess" spoke with Tanya about the delicious healthy Bullwrinkles and Barnsdale Farms Select Treats and Chews. Fishstick the Pug and Kilo the Pug are huge fans of their products.
Lottie's talented trainer and Jess' friend Taylor arranged to come to Toronto and meet us at Woofstock so Lottie could catch up with her BFF, Grizzly. These two hugging are just too cute.
Fishstick was surprisingly calm when he got to meet mega celebrity and social media mogul, Doug the Pug.  (An exclusive behind the scenes interview with Doug will be coming soon!)
Like a good sister should, Lottie cheered Fishstick on as he competed in the Pug Races, an adorable and popular event at Woofstock. "Go Fish go!"
Lottie is always ready to show off her amazing tricks for our camera. Look at this talented girl sit pretty! Fishstick may need a little work on his core to keep up.
Lottie and Fishstick walked the red carpet for the Costume Contest, looking fashion forward for their adoring fans.
Lottie in Pretty Tulle and Lace!
Fishstick running for office with that hilarious wig?
We were very excited to bump into our friend Crusoe the Celebrity Dachshund and watch the #nobiteisright presentation. We were reminded to keep clear of troublesome ticks while filming in the park and to check for them at the end of the day.
 Read: Cool Behind the Scenes with Crusoe The Celebrity Dachshund to learn more about tick bite prevention.
After a busy day outside in the hot sun, we headed back to the Fairmount Royal York Hotel downtown. What a gorgeous oasis! It was so nice to relax in the air conditioning and lay on the plush beds.
Our very own Rescue to Royalty hero Fishstick the Pug was treated to a luxury robe and gift basket by the hotel. He felt like a pampered celeb! Lottie was a little envious.
Read: Backseat Barkers Visit The Pet-Friendly Fairmont Royal York Hotel & Woofstock.
Behind the Scenes Video
Watch our stars tell all in their pilot episode interview with Talent Hounds!
Were You At Woofstock? Show us your pics.
Planning to visit Toronto? Check out the Fairmont Royal York.
Disclosure: No compensation was received from the hotel,  but we were given the use of a Signature room for filming. Our opinions are our own and we absolutely loved it.